The Organized Parent w/ Marie Levey-Pabst
The Organized Parent

w/ Marie Levey-Pabst
Do you want to be an organized parent? Need additional tools to manage the chaos in your life?
Join Successful Parents in NAAAP (SPIN) for this workshop that helps parents overcome this HUGE challenge! How to get things done when there is too much to do!
There are plenty of organization and productivity tools out there. But most of them assume that we have control over your schedule and tasks - which is not the case for most parents. In this workshop participants will practice using a simple system to get organized at home and work. And it's a system that is designed for busy parents!
When: Sunday, April 29, 2 - 3:15p
Where: 50 Milk Street, 16th Fl Edison
Other Details: closest T stop is State Street, Garage at Post Office Square $9 on Sundays (55 Pearl Street entrance or 130 Congress Street entrance)
Member (individual) $10
NonMember (individual) $15
Add a ticket for your spouse for just $5 more. Applies to both members and nonmembers.
Don't delay! Space is limited.
Questions? Contact: joanna.jung@naaapboston.org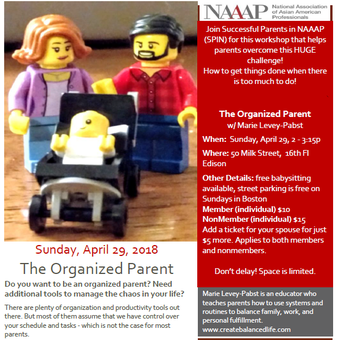 50 Milk St, Boston, MA 02110, 16th Floor, Edison