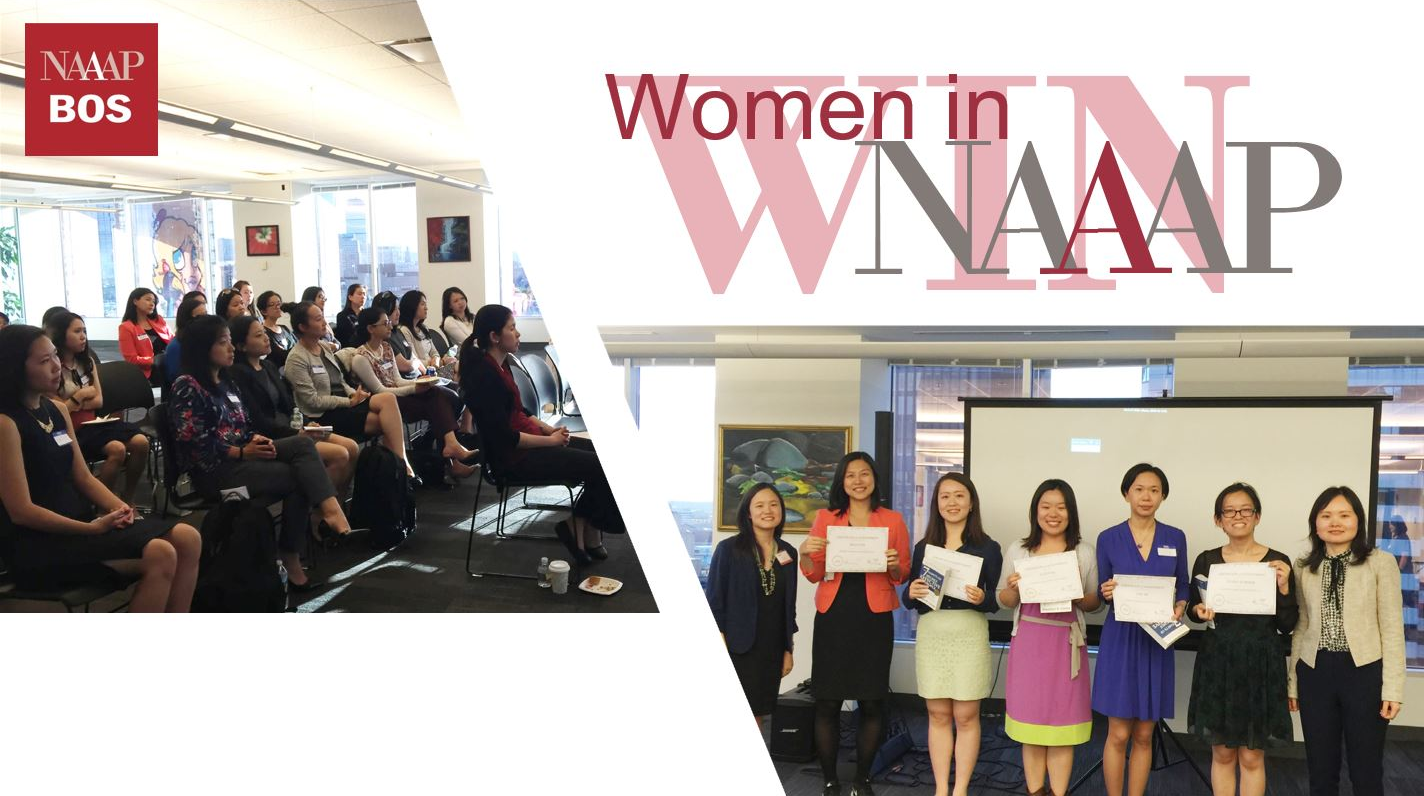 Members of Women in NAAAP gathered together on June 8th to celebrate the graduation of the 2015 Lean in Circle program and to launch the 2016 program.
Women in NAAAP aims to equip Asian American women with the confidence, professional and leadership skills necessary to become effective leaders. The Lean in Circle program focuses on addressing personal and professional challenges experienced by Asian women by providing an environment where participants can connect and learn from each other. Around 30 members of the community were in attendance for the event, which involved a night of food, networking and discussions. The graduates of the 2015 program offered words of wisdom and shared their experiences on how participation in the program allowed them the opportunity to enhance their skills and build lifelong friendships. The new 2016 Lean in Circle program consists of two groups of 10 participants each.
NAAAP Boston's WIN Lean In Circle is a 12-month program that brings together select women to participate in monthly dialogues on topics from the book and website (www.leanin.org) with the goal of inspiring and empowering one another.  The Lean In Circle program is designed to help participants build a strong cross-industry network through peer-to-peer mentoring and leadership development. Through this amazing one year journey of learning and growing together, Lean In Circle helps to achieve NAAAP's mission of connecting and empowering program participants, and WIN's mission of building a more influential Asian American sisterhood to drive positive impact in the community at large.
Launched in April 2015, The WIN Lean In Circle program's inaugural class attracted members from various industries (financial services, consulting, healthcare, government, education) and functions (finance, audit, project management, business support, marketing) with professional experiences ranging from 2 to 20+ years. The feedback from the graduating class was overwhelmingly positive – members felt they had developed and refined their leadership style and became much more confident asserting themselves as strong leaders to make a meaningful difference at work and in their communities. As a result of participating in the program, many women have successfully sought out leadership and career advancement opportunities.  Examples include a graduate seeking a position as a CFO of a startup, and another being promoted to a higher management position and asked by her company to apply for the Boston Chamber of Commerce's Women Leadership program.  All graduates were able to achieve professional growth in some way— from speaking more confidently amongst colleagues, pitching proposals more effectively to clients, to "taking a seat at the table" and being a true leader. A graduate of WIN Lean In Circle eloquently summarized her experience:  "After joining the WIN Lean In Circle, I was empowered to get more involved in the community and showcase my abilities at work. The WIN Lean In Circle has made me realize that I am not alone and given me support to navigate through challenges in order to reach that next step in my career.  I would absolutely recommend the WIN Lean In Circle for those who are ambitious and looking for that core support group to take them to the next level."
To learn more about the WIN! Programs or sponsorship inquiries, please feel free to reach out to WIN! Boston Team at win@naaapboston.org